Your Path to Triumph in the TOEFL Exam
TOEFL Coaching
Embarking on a journey towards higher education, work opportunities, or immigration in an English-speaking country necessitates a profound mastery of the English language. The TOEFL (Test of English as a Foreign Language) exam serves as a pivotal cornerstone in this endeavor, assessing your English language proficiency within academic and professional contexts. For those aspiring to attain exceptional results in this critical test, Go Abroad Training Institute Private Limited emerges as the unparalleled choice. This comprehensive guide will illuminate the factors that distinguish Go Abroad Training Institute Private Limited as the prime hub for top-tier TOEFL coaching, aiding you in surpassing your goals and conquering the TOEFL exam.
Introduction: Mastery of the Test of English Proficiency
The TOEFL exam, globally recognized, operates as a definitive gauge of your ability to comprehend and employ English proficiently across diverse settings. Whether it involves comprehending intricate academic texts, engaging in eloquent conversations, or producing well-structured essays, the TOEFL evaluates your readiness for the English-speaking world. Guiding you through an exhaustive coaching program, Go Abroad Training Institute Private Limited holds the beacon that equips you with the indispensable tools and strategies needed to excel in the TOEFL exam.
Navigating the TOEFL Exam: A Comprehensive Overview
To attain success, understanding the structure and content of the TOEFL exam is of paramount importance. This examination evaluates your English skills across four pivotal dimensions: Reading, Listening, Speaking, and Writing. Each segment scrutinizes specific abilities that are crucial for effective communication within a real-world context. At Go Abroad Training Institute Private Limited, we meticulously decode the intricacies of these sections, ensuring that you are thoroughly prepared to conquer every facet of the TOEFL exam.
The Power of Effective Coaching: A Leap Towards Success
While self-study undoubtedly has its merits, the unparalleled benefits of enrolling at Go Abroad Training Institute Private Limited cannot be overlooked. Our team of expert trainers delivers a premium TOEFL coaching experience, underpinned by carefully curated strategies and invaluable resources designed to elevate your preparation and catapult your performance to unprecedented heights.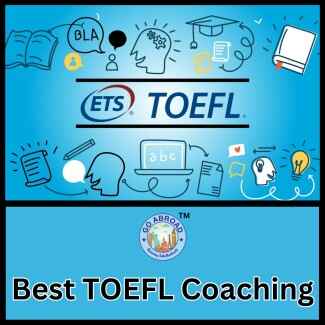 Key Attributes of Our Premier TOEFL Coaching
Experienced Instructors: Your Guide to Success
At Go Abroad Training Institute Private Limited, our esteemed faculty possesses an in-depth understanding of the nuanced aspects of the TOEFL exam. This expertise guarantees targeted guidance that illuminates your pathway to success.
Customized Study Plans: Embracing Your Uniqueness
Recognizing the individuality of each student, our tailor-made study plans address your strengths and weaknesses, facilitating efficient growth and preparation that is genuinely personalized.
Mock Tests for Progress: Mirroring Real Exam Conditions
In order to replicate real exam conditions, Go Abroad Training Institute Private Limited administers regular mock tests. These tests are more than just simulations; they provide invaluable insights into your progress and areas that require improvement.
Choosing the Ideal Coaching Center: Considerations to Keep in Mind
When selecting the ideal coaching center for your TOEFL journey, it's essential to evaluate factors such as location, class size, course duration, and reputation. The online reviews and testimonials of Go Abroad Training Institute Private Limited offer a compelling narrative of our institute's effectiveness, empowering you to make an informed decision.
Embracing Interactive Learning: A Transformative Approach
Interactive learning goes beyond mere buzzwords; it's the bedrock of our teaching methodology. Through dynamic classroom interactions, collaborative projects, and peer discussions, Go Abroad Training Institute Private Limited cultivates an immersive learning environment that enhances understanding and retention.
Mock Tests: Your Stepping Stones to Excellence
Mock tests serve as your compass on the TOEFL journey. Designed meticulously by Go Abroad Training Institute Private Limited, these tests familiarize you with the exam format and empower you to identify areas requiring enhancement. Our trainers' insightful performance assessments facilitate targeted growth.
Integrating Technology and Learning
Adapting to the digital age, Go Abroad Training Institute Private Limited seamlessly integrates technology into our teaching methods. Our online resources, interactive apps, and e-learning platforms introduce convenient and adaptable learning opportunities.
Boosting Confidence: Conquering Test-Day Nervousness
Our TOEFL coaching transcends mere language skills, instilling unparalleled self-assurance and equipping you with strategies to manage test-related stress and anxiety. Go Abroad Training Institute Private Limited is your partner in mastering both the content and psychology of the TOEFL exam.
Interactive Learning Environment: Igniting Collaborative Learning
Fostering a culture of collaborative learning is pivotal to our approach. Our institute fosters an environment of engagement and active participation, where dynamic activities and group discussions ignite accelerated comprehension.
Abundant Resources: A Holistic Approach to Preparation
As part of our holistic approach, we provide a plethora of study materials, including practice tests and sample questions, which are indispensable for a comprehensive preparation strategy.
Expert Instructors: Guiding You to Excellence
Our seasoned TOEFL trainers possess the expertise to navigate you through the intricacies of the exam. At Go Abroad Training Institute Private Limited, these experts share insider tips, strategies, and methods tailored for each section, significantly enhancing your chances of success.
Tailored Study Plans: Your Roadmap to Progress
At Go Abroad Training Institute Private Limited, we embrace your current proficiency level, crafting personalized study plans that ensure consistent progress without overwhelming you. These plans, tailored to your pace and potential, lay the foundation for your TOEFL success.
Mastering Time Management: An Indispensable Skill
Efficient time management is non-negotiable in the TOEFL exam. Our trainers equip you with strategies to effectively allocate time to each section, ensuring that you complete the exam within the stipulated timeframe.
Feedback for Improvement: Your Personalized Pathway
Instructors at Go Abroad Training Institute Private Limited provide constructive feedback, a pivotal tool for understanding and growth. This feedback directs your focus towards specific weaknesses, transforming them into strengths through personalized enhancement strategies.
Navigating the Exam: Strategic Approaches and Techniques
The TOEFL exam demands strategic finesse. Go Abroad Training Institute Private Limited equips you with indispensable test-taking approaches such as skimming and scanning for the Reading section, crafting effective responses for Writing tasks, and enhancing fluency during the Speaking segment.
The Ultimate TOEFL Coaching Destination
Your journey towards TOEFL excellence requires dedication, expert guidance, and effective strategies. Go Abroad Training Institute Private Limited, the epitome of TOEFL coaching, combines expert instruction, interactive learning, and unwavering support to guide you towards your coveted TOEFL score.
In Conclusion: Your Path to TOEFL Triumph
In summation, Go Abroad Training Institute Private Limited shines as the unparalleled beacon of TOEFL coaching, enhancing your linguistic prowess and arming you with the tools to outshine the competition. Your journey to TOEFL success commences here, where expert guidance converges with personalized support, propelling you towards triumph in the Test of English Proficiency.
Go Abroad Training Institute Private Limited
The Ultimate TOEFL Coaching in Kanpur
Welcome to Go Abroad Training Institute Private Limited, your ultimate destination for the finest TOEFL coaching in Kanpur. If you're aspiring to excel in the Test of English as a Foreign Language (TOEFL), look no further. We take immense pride in being a trailblazer in the realm of language proficiency training, consistently helping students reach their dreams of studying abroad. In this comprehensive guide, we will delve into why we are the number one choice for TOEFL coaching and how we stand out in the competitive landscape of education.
Tailored Curriculum for Optimal Learning
At Go Abroad Training Institute, we believe that one-size-fits-all approaches have no place in effective education. Our expert educators understand the unique needs and learning styles of each student. Therefore, our curriculum is meticulously designed to cater to diverse learning preferences. Through personalized coaching, we ensure that every student gains a solid grasp of the English language, enabling them to tackle the TOEFL examination with confidence.
Experienced and Dedicated Faculty
Our success story would be incomplete without mentioning our exceptional faculty. Our team comprises experienced instructors who are not only well-versed in the nuances of the TOEFL exam but also passionate about teaching. Their unwavering commitment to students' success sets us apart from the rest. With their guidance, you'll receive expert insights, valuable tips, and constructive feedback that will help you navigate the complexities of the TOEFL test effortlessly.
Comprehensive Study Materials
When it comes to TOEFL preparation, having access to the right resources is crucial. That's why we offer an extensive range of study materials that cover every aspect of the exam. From grammar guides and vocabulary lists to practice tests and mock exams, our repository of resources is designed to empower you with the knowledge and skills needed to ace the TOEFL.
Interactive Learning Environment
Learning doesn't have to be dull and monotonous. At Go Abroad Training Institute, we foster an interactive and engaging learning environment. Our classes are designed to promote active participation, group discussions, and practical application of language skills. This approach not only makes learning enjoyable but also enhances your ability to communicate effectively in English.
Realistic Mock Tests
We understand that taking a standardized test can be nerve-wracking. To alleviate this anxiety, we provide a series of realistic mock tests that simulate the actual TOEFL exam. These mock tests not only familiarize you with the test format but also help you manage time efficiently and refine your test-taking strategies.
Individualized Attention
Unlike crowded classrooms where individual attention is scarce, our institute thrives on a student-centric approach. We keep our class sizes small to ensure that each student receives personalized attention from our faculty. This allows us to identify your strengths, address your weaknesses, and provide tailored guidance to maximize your learning outcomes.
Continuous Progress Tracking
Measuring progress is vital to gauge your readiness for the TOEFL exam. We implement a robust progress tracking system that helps you keep tabs on your advancement. Through regular assessments and performance evaluations, we make necessary adjustments to your learning plan, ensuring that you stay on the path to success.
Transforming Dreams into Reality
Over the years, Go Abroad Training Institute has been instrumental in transforming countless dreams into reality. Our alumni's success stories are a testament to our dedication and expertise. Students who have undergone our TOEFL coaching have not only achieved exceptional scores but have also secured admissions to prestigious international universities.
Enroll Today!
Your journey to TOEFL excellence begins with a single step. Enroll at Go Abroad Training Institute Private Limited and experience a transformative learning journey that will shape your future. Don't let language barriers hold you back from realizing your aspirations. Join us and embark on a remarkable educational odyssey that opens doors to global opportunities.
Frequently Asked Questions (FAQs) for TOEFL