Experience a Seamless Journey to Studying in Australia
Study in Australia
Welcome to Go Abroad Training Institute Private Limited
It is quite confusing but a very important decision about finalizing a country when you plan to go and study abroad. We at Go Abroad Training Institute Private Limited are dedicated to assisting you in achieving academic excellence in Australia since we recognize the importance of this step.
Unveiling Opportunities with Australian Education
Studying in Australia transcends mere degree acquisition; it constitutes an immersion into a realm teeming with boundless vistas. It stands tall as an apex option for global scholars, thanks to its renowned institutions of higher learning. The Go Abroad Training Institute Private Limited astutely discerns the exhilarating yet formidable nature of commencing this educational voyage.
A Diverse Range of Academic Excellence
Australia boasts a globally recognized education system that embraces diversity and excellence. The Go Abroad Training Institute Private Limited recommends many different courses in Australia, like engineering, arts, medicine, business, and more, depending on what you are interested in. The emphasis on practical skills and immersive learning ensures graduates are well-prepared to confidently enter the professional world. Furthermore, Australia's welcoming society ensures that international students feel right at home, adding to their culturally vibrant and diverse experience.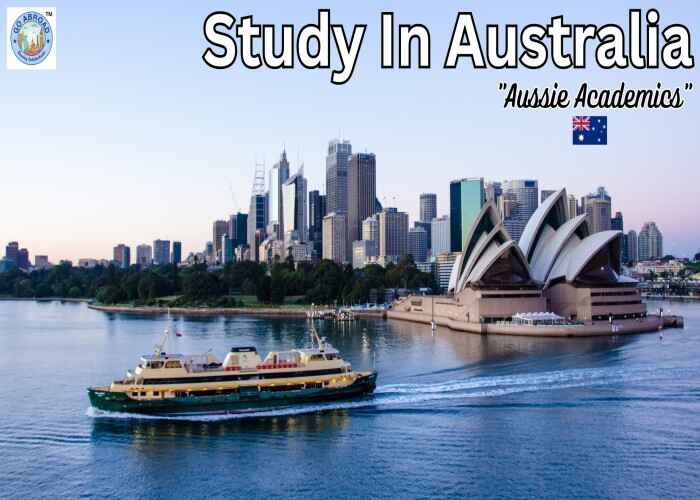 Tailored Support for Your Unique Journey
Our Comprehensive Services
Personalized Counseling
Your journey starts with understanding you. The team of experienced education counselors at Go Abroad Training Institute Private Limited conducts one-on-one counseling sessions to assess your academic background, interests, and aspirations. This assessment forms the foundation for personalized guidance in selecting the right course and university aligned with your goals.
University Selection
Navigating through a multitude of universities can be overwhelming. Our experts possess in-depth knowledge of Australian institutions and their offerings. We aid you in shortlisting universities that match your preferences, ensuring your decision is informed and confident.
Application Assistance
The path to enrollment can be labyrinthine. Our team ensures your application is complete, accurate, and submitted punctually. From assembling necessary documents to navigating application forms, we provide step-by-step guidance for a hassle-free process.
Visa Support
Acquiring a student visa is pivotal. Go Abroad Training Institute Private Limited provides guidance throughout the visa application process, ensuring compliance with requirements and the timely submission of essential documents. Our aim is to streamline the visa application journey.
Pre-Departure Guidance
Transitioning to a new country demands preparation. Our pre-departure sessions equip you with vital insights about life in Australia. From housing options to cultural immersion, we empower you to embark on this transformative experience with confidence.
Post-Arrival Support
Our commitment transcends borders. Upon your arrival in Australia, the experts continue to offer unwavering support, addressing challenges you may encounter while settling in. Whether it's academic concerns or adjusting to a new culture, Go Abroad Training Institute Private Limited is dedicated to ensuring a seamless transition.
Your Pathway to Success – Empowering Your Dreams
Studying abroad offers opportunities for personal development, cultural exposure, and horizon expansion in addition to academic success. With Go Abroad Training Institute Private Limited, you gain a dedicated partner vested in your success. The expertise of our counselors in overseas education makes us the top choice for students planning to study in Australia.
Embark on Your Educational Odyssey
You should take the first step in your overseas educational career with Go Abroad Training Institute Private Limited. As your trusted overseas education consultant, we are resolute in turning your dreams of studying in Australia into a reality. Come join Go Abroad Training Institute Private Limited on this exciting study abroad journey and open the door to a world of opportunities that will shape your future.
Study In Australia
List Of Best Universities In Australia
• Monash University
• University of Adelaide
• University of Melbourne
• University of New South Wales
• University of Queensland
• University of Sydney
• University of Western Australia
• Curtin University of Technology
• Queensland University of Technology
• Royal Melbourne Institute of Technology
• University of South Australia
• University of Technology Sydney
• Australian Catholic University
• Macquarie University
• La Trobe University
• Western Sydney University
• Victoria University
• University of Tasmania
• Deakin University
• Federation University
• Griffith University
• Southern University
• James Cook University
• Australian National University
• University of Southern Queensland
• Bond University
• Central Queensland University
• Australian National University
• Australian National University
Instantly, get in touch with Go Abroad Training Institute Private Limited. Apply Now
Frequently Asked Questions (FAQs) To Study in Australia