Study in Switzerland's Top-Ranked Colleges
Study in Switzerland
Welcome to Go Abroad Training Institute Private Limited – your guiding light toward a world-class education in Switzerland's most prestigious colleges. As a distinguished Swiss education consultant, we are committed to nurturing your academic aspirations and transforming them into reality. Embark on a journey that blends Swiss splendor with global excellence – your academic destination awaits.
Discover the Epitome of Education
Studying in Switzerland: A World of Opportunities
Switzerland's commitment to education is renowned worldwide which makes it a prime destination for study abroad aspirants seeking an unparalleled academic experience. Switzerland's attraction is evident since it boasts a harmonious fusion of artistic splendor and intellectual prowess.
A Diverse Spectrum of Programs
At Go Abroad Training Institute Private Limited, we recognize your diverse interests and ambitions. Our extensive array of programs encompasses:
Hospitality Management: Embrace the World of Hospitality
Immerse yourself in the world of hospitality, mastering skills vital for success in this dynamic field.
Hotel Management: Orchestrating Hotel Excellence
Gain expertise in hotel operations, management, and guest services, positioning yourself as a leader in the hospitality sector.
Business Management: Building Business Prowess
Develop a solid foundation in business principles, equipping yourself for leadership roles across industries.
Entrepreneurship: From Vision to Reality
Cultivate an entrepreneurial mindset and acquire the tools to turn your innovative ideas into reality.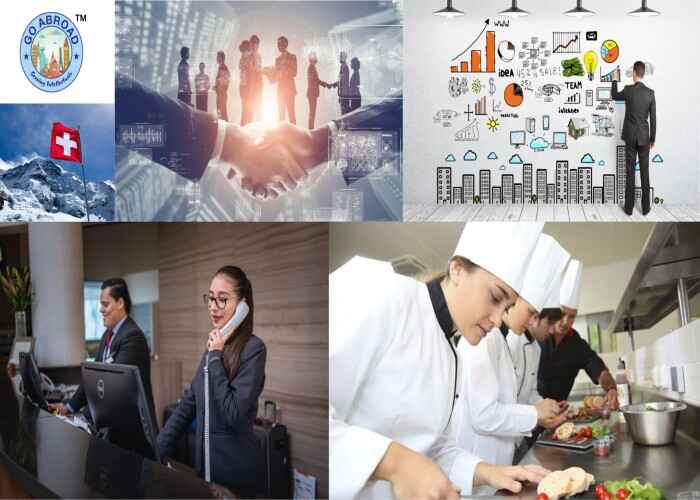 International Business Management: Navigating Global Business
Navigate the complexities of global business with cross-cultural acumen.
Event Management: Crafting Memorable Experiences
Dive into the exciting world of event planning and execution, honing your organizational and creative skills.
Culinary Arts: Embark on a Gastronomic Journey
Embark on a gastronomic journey, mastering culinary creation and innovation.
Pastry and Chocolate Arts: The Art of Sweet Creations
Indulge your passion for sweet creations, learning the delicate art of pastry and chocolate craftsmanship. Contact Go Abroad Training Institute Private Limited to study at the top-ranked colleges of the world only in Switzerland. Apply Now
Navigating Your Academic Journey
Our Comprehensive Services
At Go Abroad Training Institute Private Limited, we provide a holistic suite of services designed to guide you seamlessly through your academic journey:
Personalized Program Selection
To fully comprehend your educational objectives, professional aspirations, and personal interests, our study abroad experts work on your profile. This personalized approach of the experts at Go Abroad Training Institute Private Limited ensures that you choose a program that resonates with your passions.
Application Excellence
Crafting an impressive application is pivotal in securing admission to renowned Swiss institutions. Our experts assist you in creating an application package that highlights your strengths, experiences, and commitment.
Navigating Visa Procedures
The visa application process can be intricate, but the dedicated visa support team at Go Abroad Training Institute Private Limited simplifies the journey, ensuring you have all the necessary documents for a smooth application.
Preparing for Departure
It takes planning to relocate for higher education in a foreign country. Our pre-departure assistance provides you with important details about daily life in Switzerland, cultural perspectives, and helpful pointers for a smooth adjustment.
Study In Switzerland
Why Choose Go Abroad Training Institute Private Limited?
Holistic Student Support
Go Abroad Training Institute Private Limited considers education to be a multifaceted endeavor. Our strategy fosters your academic development as well as your personal and professional improvement.
Strong University Partnerships
Our broad network of collaborations with top-ranked Swiss colleges, based on the QS World University Rankings, provides you with special chances, scholarships, and valuable resources.
Expert Guidance
The consultants at Go Abroad Training Institute Private Limited offer expert insights and guidance that ensure you make the best decisions that align with your long-term goals.
Our Success Stories
Testimonials
"Studying at SHMS Switzerland, renowned as one of the world's top-ranking colleges, constituted the most enriching chapter of my life. Presently, I am employed as a Front Desk Agent at Stein Eriksen Lodge in Park City, Utah, USA. I extend heartfelt gratitude to Go Abroad Training Institute Private Limited for their unwavering support and guidance throughout my academic and professional expedition." – Jyoti Ramani, Master Of International Business In Hotel and Resort Management, SHMS Switzerland
"Go Abroad Training Institute Private Limited played a pivotal role in shaping my academic journey. Their guidance and support were instrumental in helping me secure admission at one of Switzerland's top-ranked colleges – HTMi – Hotel & Tourism Management Institute Switzerland." – Abdul Ahad, Bachelor's Degree in Hospitality Management, HTMi Switzerland
"With a hospitality career passion, Go Abroad Training Institute Pvt. Ltd.'s counseling resolved my quest. They provided the sought-after growth options. Under their guidance, I joined SHMS, Switzerland, for International Hospitality Management. The college's top-notch infrastructure and 5-star hospitality education enthrall me. Now an Event Supervisor at Hyatt Regency Chesapeake Bay Resort, USA, I credit Go Abroad Training Institute for these opportunities." – Pradyumn Yadav, M.Sc.- International Hospitality Management SHMS, Switzerland
GATEWAY TO GLOBAL RECOGNITION
Go Abroad Training Institute Private Limited is your gateway to a world-class education in Switzerland's top-ranked colleges. Your academic path will be rewarding and transforming thanks to our dedication to excellence, personalized coaching, and steadfast support.
Are you prepared to follow a path that combines the best of Swiss education with international acclaim?
For more information on studying in Switzerland, get in touch with Go Abroad Training Institute Private Limited right away.
Study Hospitality, Hotel, Business, Event Management, and Culinary Arts Programs in Switzerland
FAQs for Studying in Switzerland