Unveiling the Path to SAT Excellence
SAT Coaching
Introduction: Navigating the Road to SAT Success
Embarking on the journey towards acing the SAT exam? Your destination is Go Abroad Training Institute Private Limited, your unrivaled partner in SAT coaching. As you gear up to conquer this pivotal standardized test, let's delve into the comprehensive strategies and unwavering support that Go Abroad Training Institute provides to elevate your results.
Unpacking the SAT Exam: Beyond the Basics
In your pursuit of excellence, understanding the SAT exam's structure is paramount. This standardized test evaluates not only mathematical and reading skills but also reasoning and effective writing. Comprising the Evidence-Based Reading and Writing (EBRW) section, the Math section, and an optional Essay section, the SAT assesses skills foundational to your academic prowess.
The Power of Effective Coaching: Your Key to Triumph
While independent study holds value, enrolling in Go Abroad Training Institute Private Limited's SAT coaching program revolutionizes your approach. Our expert trainers aren't just mentors; they provide a blueprint for excellence. Their structured approach, enriched with proven strategies and comprehensive resources, amplifies your performance potential.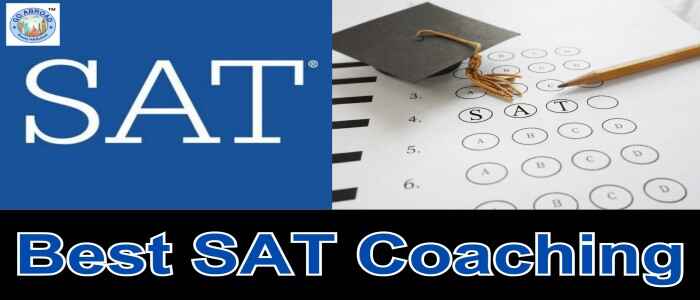 Attributes of Outstanding SAT Coaching
Experienced Instructors: At Go Abroad Training Institute Private Limited, our team of seasoned instructors comprehends the nuances of the SAT exam. With their personalized guidance, you're equipped with insights necessary to navigate the test effectively.
Tailored Study Plans: Recognizing your strengths and weaknesses, we craft customized study plans. This tailored approach optimizes your preparation journey, focusing on refining areas that need attention.
Diverse Study Resources: Access to a plethora of study materials is vital for holistic preparation. Go Abroad Training Institute Private Limited ensures you have an extensive repository of practice questions, mock tests, and sample essays at your disposal.
Interactive Learning Environment: Our collaborative classrooms encourage active participation, discussions, and group activities. These dynamic interactions stimulate engagement and deepen your understanding.
Realistic Practice Tests: Regular practice tests, emulating actual exam conditions, are indispensable. They acquaint you with the test format, helping you identify and address areas of concern.
Selecting the Ideal Coaching Center: Making an Informed Choice
When embarking on your SAT preparation journey, the choice of coaching center holds significance. Factors such as location, class size, reputation, and success rate require meticulous evaluation. Reading reviews and testimonials about Go Abroad Training Institute Private Limited offers firsthand insights into our coaching program's effectiveness.
Crafting Personalized Study Plans for Optimal Progress
A personalized study plan forms the cornerstone of effective preparation. Go Abroad Training Institute Private Limited tailors study plans aligned with your proficiency level, setting achievable milestones for steady advancement and stress minimization.
The Expertise of Our Instructors: Guiding You to Excellence
Our accomplished SAT instructors possess an in-depth understanding of the exam's content and format. At Go Abroad Training Institute Private Limited, their experience translates into expert guidance, strategies, and invaluable tips for each SAT exam section.
Fostering an Interactive Learning Environment
Engaging classroom discussions, collaborative projects, and peer interactions are integral to our approach. At Go Abroad Training Institute Private Limited, we cultivate an immersive learning environment that enhances comprehension and retention.
Time Management Techniques for Optimal Performance
Efficient time management is a pivotal component of SAT success. Our trainers at Go Abroad Training Institute Private Limited equip you with skills to allocate time wisely across sections, enabling optimization of your performance within the exam's time constraints.
Progress Assessment through Practice Tests
To gauge your progress accurately, practice tests are indispensable. Go Abroad Training Institute Private Limited conducts regular tests that provide insights into your strengths and weaknesses, allowing necessary adjustments to your study plan. Our instructors provide comprehensive performance evaluations to guide your advancement.
Feedback and Targeted Improvement Strategies
Constructive feedback propels growth. At Go Abroad Training Institute Private Limited, our instructors analyze your mistakes, aiding comprehension and rectification. This personalized approach targets specific weaknesses, driving you toward improvement.
Harnessing Technology for Enhanced Learning
Embracing technology enhances your learning experience. At Go Abroad Training Institute Private Limited, we integrate online resources, interactive platforms, and digital practice tests to create flexible and convenient learning opportunities.
Mastering Test-Taking Strategies: Your Toolkit for Success
The SAT exam requires more than content knowledge. Our training equips you with test-taking strategies such as answer choice elimination, time management, and maintaining focus. These techniques empower you to approach the exam with confidence.
Building Confidence and Managing Test Anxiety
Test-related stress and anxiety can hinder performance. Beyond academics, Go Abroad Training Institute Private Limited imparts techniques to manage stress and anxiety effectively, ensuring you approach the SAT exam with a clear mind and boosted confidence.
The Epitome of SAT Coaching Excellence
Dedication and strategic preparation are paramount in pursuit of SAT excellence. Go Abroad Training Institute Private Limited shines as the beacon of SAT coaching excellence. Our holistic approach amalgamates experienced instruction, interactive learning, and personalized support to guide you toward achieving your coveted score.
Conclusion: Embrace Your SAT Success Journey
As you prepare to embark on your SAT journey, remember that the right coaching can make all the difference. Go Abroad Training Institute Private Limited doesn't just offer coaching; it provides a transformational experience. Your SAT success story begins here.
Why Opt for Go Abroad Training Institute Private Limited?
Unmatched Expertise
At Go Abroad Training Institute Private Limited, we take immense pride in our team of seasoned educators. These proficient professionals possess profound knowledge and a comprehensive understanding of the SAT examination. With years of experience, they are well-versed in the exam's pattern, question types, and effective pedagogical methods.
Personalized Learning Approach
Recognizing the distinctiveness of each student, we employ a tailored coaching approach. This revolves around offering personalized attention and customized study plans. Such an approach ensures the amplification of each student's strengths and the transformation of their weaknesses into avenues for growth.
Comprehensive Study Resources
Succeeding in the SAT requires a sturdy foundation built upon reliable study materials. Our institution meticulously curates study resources, including practice papers, mock tests, and reference materials. These resources, coupled with expert guidance, empower students to confidently tackle every section of the exam.
Strategic Test-Taking Strategies
Conquering the SAT demands not only a deep comprehension of the subject matter but also the implementation of effective test-taking strategies. Our faculty imparts invaluable techniques that aid students in time management, handling challenging questions, and optimizing their performance on the test day.
Our Distinctive Attributes
Intimate Batch Sizes
Dissimilar to overcrowded classrooms, we maintain compact batch sizes to ensure individualized attention. This fosters a conducive environment for enhanced student-teacher interaction, allowing educators to address queries, provide clarifications, and offer personalized guidance seamlessly.
Continuous Progress Tracking
We firmly believe that progress should be quantifiable. Through regular assessments, mock tests, and meticulous performance analysis, we diligently monitor each student's development. This not only aids in gauging their progress but also assists students in identifying strengths and areas necessitating improvement.
Holistic Approach
The journey of SAT preparation extends beyond mere exam content – it is about nurturing a robust academic foundation. Our holistic approach transcends test specifics to enhance students' critical thinking, problem-solving aptitude, and overall cognitive abilities.
Pinnacle Scores and Dream Admissions
Across the years, our students have consistently achieved top-tier scores in the SAT, securing admissions to esteemed universities worldwide. Our success stories bear testament to the efficacy of our coaching and the unwavering commitment of our students.
Personal Growth and Development
Beyond scores and admissions, our institute places emphasis on fostering well-rounded individuals. Numerous alumni attribute not only their academic success but also their enduring personal growth and bolstered confidence to our institution.
Electing to be a part of Go Abroad Training Institute Private Limited equates to choosing excellence, personalized mentorship, and an enriching learning odyssey. Join our community of motivated learners and embark on a journey toward academic and personal triumph.
Conclusion
As the premier SAT coaching center in Kanpur, Go Abroad Training Institute Private Limited transcends being a mere institution; it is a collaborator in your educational voyage. With our unwavering commitment to exceptional education, personalized attention, and holistic development, we are the stepping stone to a brighter future.
If you are ready to take the next stride toward SAT success and unlock unprecedented opportunities, contact us today to commence this extraordinary journey.
Frequently Asked Questions (FAQs) for SAT