PTE Coaching
PTE Coaching: Your Ultimate Pathway to English Language Excellence
Are you nurturing ambitions of pursuing higher education, seeking employment, or establishing residence in an English-speaking nation? If so, you're well aware of the vital significance of having a robust command over the English language. As you strive for excellence, one name shines brilliantly: Go Abroad Training Institute Private Limited. This institute stands as a guiding light and a paragon of proficiency on your journey to mastering English through the Pearson Test of English (PTE). Let's delve into the world of PTE coaching, exploring its manifold benefits and uncovering the assured path it forges towards English language success.
Embarking on the PTE Coaching Odyssey
At Go Abroad Training Institute Private Limited, the PTE Coaching program is meticulously curated to equip individuals with the indispensable skills required to conquer the Pearson Test of English. This comprehensive coaching regimen focuses on honing the four fundamental language proficiencies: Speaking, Writing, Reading, and Listening. While excelling in the PTE examination is the central goal, the program goes beyond test preparation. It nurtures an all-encompassing language proficiency that is pivotal not only for excelling in exams but also for thriving in academic and professional spheres.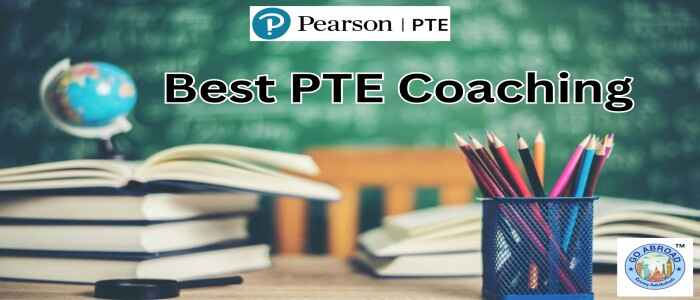 Navigating the PTE Test Landscape
The PTE examination serves as a true litmus test for your English language prowess, assessing your capabilities across a diverse array of tasks that mirror real-life scenarios. The examination is meticulously divided into distinct sections, including Speaking and Writing, Reading, and Listening. Each of these segments is intricately designed to evaluate specific language competencies. To rise to the zenith of success in this assessment, familiarity with the examination format is paramount, and this is where PTE Coaching becomes your guiding compass.
Selecting the Paragon of PTE Coaching
Choosing the finest PTE Coaching institute holds immense significance on your path to success. Prioritize programs that boast experienced educators, a meticulously structured curriculum, and a proven track record of cultivating high achievers. Delve into reviews and testimonials from past beneficiaries, as these insights are invaluable in making an informed decision. Remember, your choice of coaching partner significantly molds the outcome of your PTE journey.
The Crucial Role of Simulated Practice Tests
Immersing yourself in simulated practice tests forms a cornerstone of the PTE Coaching journey. These mock tests, thoughtfully crafted by Go Abroad Training Institute Private Limited, perfectly replicate the actual examination environment, fostering familiarity with the format and pacing. Serving as a double-edged sword, they not only enhance your comprehension but also shed light on areas requiring refinement. Equipped with this insight, you embark on a journey to fine-tune strategies and optimize performance.
The Imperative of PTE Coaching
Opting for the journey of PTE Coaching with Go Abroad Training Institute Private Limited offers an array of coveted advantages. Firstly, the coaching establishes a systematic framework for your exam preparation, ensuring thorough coverage of all facets of language proficiency. Moreover, the PTE Coaching program adopts a personalized approach, tailoring guidance meticulously to unveil your strengths and address your weaknesses. This bespoke attention acts as a catalyst, amplifying your confidence and effectiveness on test day.
Strategies that Transmute Preparation into Triumph
Within Go Abroad Training Institute Private Limited's PTE Coaching, a treasure trove of strategies awaits to assist you in conquering diverse test segments. From mastering time management to refining critical reasoning skills, these strategies are engineered to empower you to approach each task with unwavering confidence and precision. Backed by consistent practice and sagacious guidance from seasoned mentors, you are ready to confront any challenge the PTE test presents.
Conquering PTE Challenges, One Step at a Time
The landscape of PTE examinations is not devoid of challenges, including nervousness, time constraints, and grappling with intricate question types. Go Abroad Training Institute Private Limited rises to the occasion, offering tailored exercises and techniques to conquer anxiety, enhance time management skills, and effortlessly tackle complex tasks. It's this precision-guided approach that acts as a compass in navigating these challenges.
The Alchemy of Personalized Coaching
In Go Abroad Training Institute Private Limited's PTE Coaching, personalized attention stands as an exceptional hallmark. Coaches delve into your progress meticulously, tailoring instruction to suit your unique requirements. This personalized treatment enriches the learning journey and ensures a continuous path of improvement.
Catalyst for Academic and Immigration Triumphs
PTE Coaching
On the global stage, PTE scores resonate as a universal language accepted by academic institutions and immigration authorities alike. Achieving high scores opens doors to universities, career opportunities, and even permanent residency in English-fluent domains. PTE Coaching stands not only as a conduit for test readiness but also as a means to fortify the linguistic skill set essential for accomplishments in these spheres.
Unleashing Eloquence
The Crucible of Speaking and Writing
The PTE test traverses multifaceted terrains, with Speaking and Writing being two of the most formidable. Go Abroad Training Institute Private Limited's PTE Coaching delves deeply into enhancing your ability to express thoughts eloquently, articulate opinions effectively, and pen words that resonate. The interplay of consistent practice and insightful feedback shatters inhibitions and catalyzes success in these pivotal realms.
A Comparative Exposition
PTE Coaching vs. Solo Pilgrimage
While self-guided study may beckon, the guided wisdom encapsulated within PTE Coaching at Go Abroad Training Institute Private Limited acts as a force multiplier for your journey. The expertise, customized attention, and battle-tested strategies imparted by trainers combine to paint your journey with hues of acceleration. The echo of excellence reverberates through the corridors of guided coaching.
Continuous Assessment
Forging Progress, Tracking Triumphs
The path of PTE Coaching at Go Abroad Training Institute Private Limited is marked by the milestones of continuous assessment. Trainers meticulously chart your progress, adorning evaluations with pearls of feedback that highlight strengths and illuminate areas in need of refinement. This data-rich trajectory empowers the recalibration of your study plan, pinpointing domains that warrant intensified focus.
Chronicles of Triumph
The Metamorphosis of PTE Coaching
Across the globe, countless lives have undergone a metamorphosis thanks to the transformative impact of PTE Coaching at Go Abroad Training Institute Private Limited. Through the lens of language proficiency, individuals have soared into scholarships and secured coveted positions. These stories of success serve as a testament to the potential of PTE Coaching in shaping personal and professional trajectories.
The Finale
Gateway to Proficiency
On your journey towards academic and vocational horizons, mastery of English, nurtured through PTE Coaching at Go Abroad Training Institute Private Limited, assumes the role of a compass guiding your trajectory. The structure of this coaching program, enriched with expert guidance and tailored attention from luminaries at Go Abroad Training Institute Private Limited, lays the foundation for elevated scores and heightened linguistic fluency.
Unveiling Excellence
The Ultimate Destination for PTE Coaching in Kanpur
Your Pathway to Success: Go Abroad Training Institute Private Limited
If you're searching for the pinnacle of PTE preparation in Kanpur, look no further than Go Abroad Training Institute Private Limited. Our institute is not just a coaching center; it's a beacon of excellence that guides you towards mastery in the PTE exam. Discover the power of personalized guidance, top-tier education, and a legacy of unrivaled achievements.
Elevating Your PTE Journey
The Go Abroad Advantage Elevating Your PTE Journey
Expertise Beyond Compare
At Go Abroad Training Institute, our pride lies in our unmatched team of seasoned educators and language virtuosos. With a wealth of experience in PTE training and a profound understanding of the exam's intricacies, our faculty is your compass to navigate the challenges of the PTE examination with absolute confidence and finesse.
Tailoring Success
Recognizing the uniqueness of each student, we've woven our coaching approach around individualized instruction. Your strengths are our focal point, while your weaknesses become stepping stones to triumph. Through personalized study plans and one-on-one sessions, we craft a learning journey tailored exclusively to you.
All-Encompassing Curriculum
Our meticulously designed curriculum is a comprehensive tapestry that covers every facet of the PTE exam. From honing your speaking and writing skills to refining your reading and listening prowess, we leave no stone unturned. Our lessons not only bolster your test-taking abilities but also elevate your overall language proficiency, a skill set that resonates beyond the exam room.
Our Winning Strategy
Paving Your Path to Excellence
Strategic Training Blueprint
Our strategic training modules are the compass that points you towards PTE triumph. The Speaking module instills fluency, pronunciation finesse, and articulate expression. In the Writing module, we delve into essay structure, vocabulary enrichment, and grammatical precision. The Reading and Listening modules are meticulously tailored to amplify your comprehension skills and hone your ability to discern key information accurately.
The Power of Practice
We believe in the adage "practice makes perfect," and our methodology echoes this wisdom. Our students gain access to a vast array of mock tests and practice exercises meticulously designed to emulate the real PTE exam. This not only familiarizes you with the exam format but also fortifies your confidence to face the exam day with poise and assurance.
Feedback and Insight
Regular feedback forms the cornerstone of our pedagogical philosophy. Our seasoned instructors provide invaluable feedback on your performance, pinpointing areas for improvement while celebrating your strides. Additionally, our comprehensive analysis of practice tests equips you with patterns, strategies, and fine-tuned approaches.
Unparalleled Triumph
The Go Abroad Legacy
Transformative Achievements
Our students' triumphs are living testimony to our unwavering commitment to excellence. Year after year, our institute witnesses' students attaining remarkable scores in the PTE exam, realizing their dreams of studying or working abroad. Our holistic approach, combined with your dedication, paves the road to a triumphant PTE journey.
Embracing the Future
Where Technology and Excellence Converge
Integration of Innovation
In our relentless pursuit of excellence, we embrace technology as an invaluable ally for enhancing learning. Our state-of-the-art classrooms feature interactive smart boards, audio-visual aids, and digital resources that captivate and empower students.
Learning Beyond Boundaries
Understanding the need for flexibility, we offer online PTE coaching that extends our exceptional training to your fingertips. Whether you're a working professional or a student with a packed schedule, our online courses ensure you're not deprived of top-tier PTE preparation.
Join the Journey Today!
Embark on your PTE voyage with Go Abroad Training Institute Private Limited. Allow us to be your guide to success, your partner in achievement, and your bridge to a brighter tomorrow. Our legacy of excellence speaks volumes, and we cordially invite you to become a part of our legacy.
If you're ready to dive into unparalleled PTE coaching, reach out to us today. Your pathway to PTE success commences here.
Frequently Asked Questions (FAQs) for PTE