Unlock Your Path to a New Beginning
Apply Permanent Residency in Canada Via Go Abroad Training Institute Private Limited
At Go Abroad Training Institute Private Limited, we comprehend the aspirations of countless individuals yearning for a fresh start in a welcoming and diverse country like Canada. Our unwavering commitment and comprehensive guidance pave the path for you to transform your dream of becoming a permanent resident of Canada into reality. This article will delve deep into the intricate process of attaining permanent residency in Canada, unraveling the eligibility criteria, application procedures, and the plethora of benefits that accompany this life-altering decision.
Heading Sub Title
Exploring Eligibility Criteria for Permanent Residency in Canada
Before embarking on your journey towards permanent residency in Canada, it's imperative to grasp the eligibility criteria that serve as the cornerstone for obtaining this esteemed status. The Canadian government extends a variety of pathways, each thoughtfully designed to cater to the unique circumstances of applicants. These pathways include:
Express Entry System: Opening Doors for Skilled Workers
The Express Entry system remains a favored choice for skilled workers aspiring to establish a permanent presence in Canada. This competitive framework evaluates candidates based on factors such as age, education, work experience, and language proficiency. At Go Abroad Training Institute Private Limited, our team is dedicated to optimizing your Express Entry profile, enhancing your chances of receiving an Invitation to Apply (ITA) for permanent residency.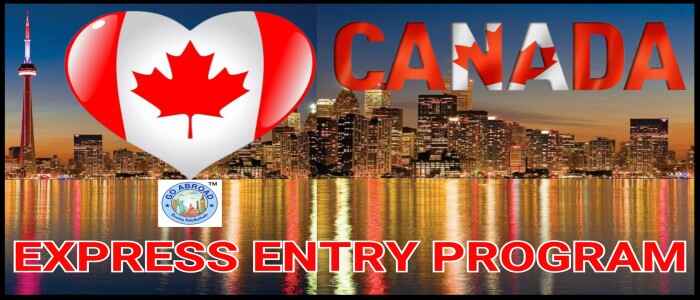 Provincial Nominee Program (PNP): Tailoring Opportunities to Your Skills
Provincial Nominee Programs empower provinces and territories to nominate individuals possessing skills and qualifications aligned with their specific labor market demands. Our experts provide comprehensive support, guiding you through the intricate provincial nomination process and assisting you in constructing a compelling case for the province of your preference.
Family Sponsorship: Strengthening Bonds, Nurturing Dreams
If you have a family member who is either a Canadian citizen or a permanent resident, you may qualify for family sponsorship. Our committed team assists you in assembling the requisite documentation and fulfilling the prerequisites to sponsor your loved ones, enabling them to secure permanent residency in Canada.
Your Journey to Residency
Navigating the Application Process
The quest for permanent residency in Canada entails a meticulous application process characterized by precision and thoroughness. At Go Abroad Training Institute Private Limited, we serve as your guiding light through each step, ensuring your application shines:
Document Preparation: Building the Foundation of Accuracy
Our meticulous approach to document preparation is engineered to minimize errors and omissions. We collaborate with you to compile essential documents, including educational transcripts, language proficiency test results, and work experience certificates.
Application Submission: Paving the Way to Confidence
Submitting your application with precision and adherence to timelines is pivotal. Our experts meticulously review your application to guarantee completion of all sections accurately, mitigating the risks of delays or rejections.
Interview Preparation: Mastering the Crucial Encounter
In select cases, an interview might be a mandatory part of the application process. Our interview preparation sessions equip you with the poise and knowledge required to excel during this pivotal phase.
Unveiling Boundless Possibilities
The Advantages of Canadian Permanent Residency
Gaining permanent residency in Canada bequeaths a treasure trove of benefits that enrich both your personal and professional spheres:
Access to Healthcare and Education: Nurturing a Secure Future
As a permanent resident of Canada, you and your family gain access to high-quality healthcare and education services, securing a promising future for your loved ones.
Employment Opportunities: Unleashing Your Professional Potential
Permanent residency unfurls a tapestry of employment possibilities across diverse industries. You hold the liberty to work for any employer, in any role, empowering you to explore and realize your career aspirations.
Pathway to Citizenship: Solidifying Bonds with Canada
After dwelling in Canada as a permanent resident for a designated period, you become eligible to apply for Canadian citizenship. This crucial step further solidifies your connection to this embracing nation.

Why Entrust Go Abroad Training Institute Private Limited?
Go Abroad Training Institute Private Limited prides itself on its unwavering dedication to your triumph. Our seasoned professionals possess an in-depth comprehension of the Canadian immigration landscape, leveraging this expertise to offer personalized guidance that sets you on the trajectory to permanent residency.
With our steadfast support, you can navigate the intricacies of the application process with unwavering confidence. Our aspiration extends beyond securing permanent residency; we strive to ensure your transition is seamless and stress-free.
In Conclusion: Seize Your New Beginning in Canada
Embarking on the journey toward securing permanent residency in Canada is an extraordinary decision, unlocking gateways to a brighter tomorrow. At Go Abroad Training Institute Private Limited, we stand resolutely beside you, equipping you with the expertise and guidance to transform your dream into reality. Initiate the journey today and embrace the promise of a new dawn in Canada. Contact us now to take your first step toward this remarkable transformation.
Frequently Asked Questions (FAQs) for Permanent Residency in Canada